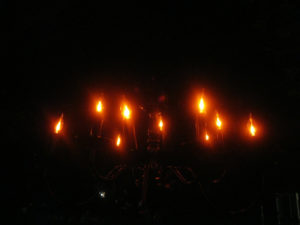 Well, it finally happened… 5 years after being tossed overboard from Squidoo and landing on HubPages, I built my first hub. Not just any old hub, it's a Halloween how-to hub! Now you can discover how to turn an old light fixture into a Halloween chandelier.
This was inspired by a fun project that I did to give our old dining room chandelier new life as a cool prop for my Halloween graveyard. Fortunately, I thought ahead about publishing this and took pictures throughout the process. It covers all you'll need to know including where to find an old light fixture, tips for painting and where to get the right flicker bulbs.
I hope you enjoy it and please let me know how your Halloween chandelier turned out!